Background the research
The purpose of this Karawo Research Group is to make the sustainable development of "Karawo" traditional manufacturing industry while trying to deeply understand the traditional embroidery Karawo including its historical backgrounds, socioeconomic, health assessment, technical and design challenges of Karawo workers. Karawo is one of the social icons of Gorontalo residents with an interesting long history.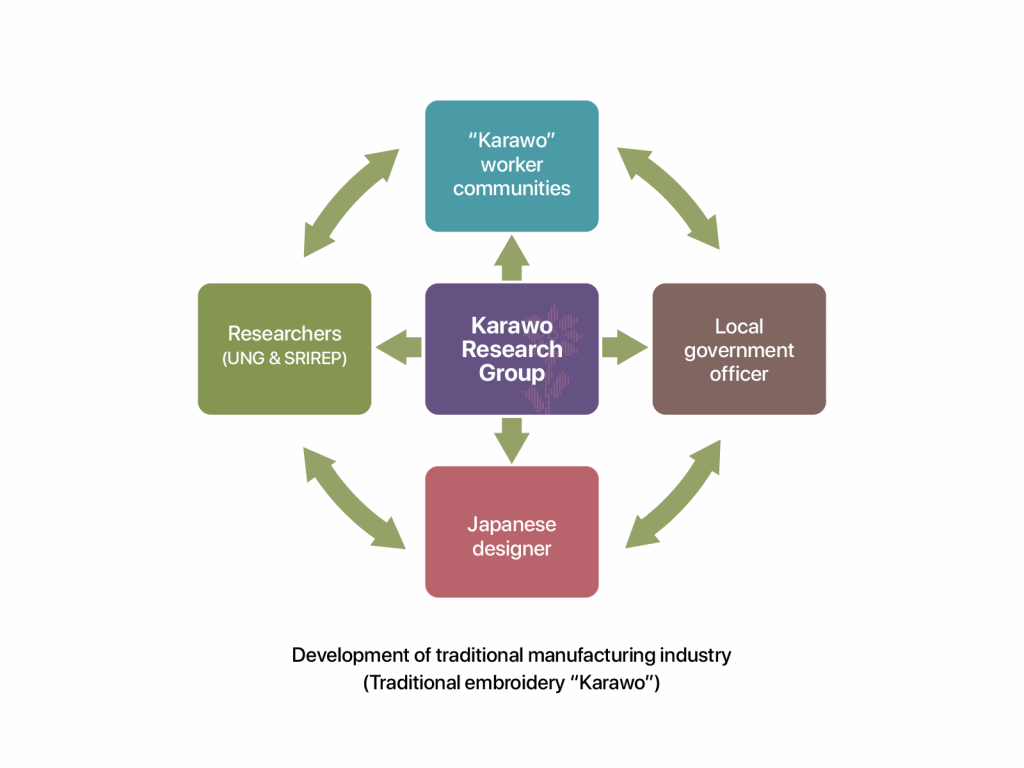 Goals of the Karawo study
・Sustainable development of traditional manufacturing industry "Karawo"
・Inheriting tradition and culture on "Karawo" to next generations
・Fostering healthy, creative, culturally rich, and socially connected communities
Basic Research 
First, we will perform the following "Basic research" activities. 
Learning about the historical, cultural, method, and design of Karawo. 

Social and economic research of communities of Karawo workers. 

Identifying technical and design issues.  

Health assessment research of Karawo workers. 
Transdisciplinary Practical Research
We will perform the following "Transdisciplinary Practical Research" activities.
Evaluating the TDCOP activities regarding 1) the sustainable development of the traditional manufacturing industry and its successor, 2) the effects of TDCOP on society, 3) the new design development, market development, etc., and 4) the health conditions of Karawo makers.
Progress
On 28 December 2021, the Transformative learning through ASGM Video (Indonesian version) was conducted to get the opinions and results obtained for attending the training from Karawo makers. Moreover, they had been acknowledged about upcoming and encouraged in developing Karawo's quality and design improvements.
At the moment, this TDCOP involves eight groups of Karawo manufacturers (for a total of 323 Karawo makers). However, two subgroups within this Karawo group are responsible for the following.

Group 1 is tasked with obtaining information from Karawo creators on problems, desires, and hopes. Each group's leader will be expected to attend meetings on a regular basis. Other members, such as Karawo shop owners, who are not Karawo creators, are not required to attend the meeting.
Group 2 is responsible for determining the optimal approach for future Karawo development, including the design/motif, embroiderer, materials (fabric and thread), expected technology, market, and distribution. The Karawo creators are not required to attend meetings in this group.
A pilot project for the development of Karawo is planned for the Bone Bolengo region.
JULY 2022
The Bank Indonesia hosted the meeting between Karawo makers, Karawo business women; Researchers from State University of Gorontalo (UNG), Indonesia, and SRIREP Project, Research Institute for Humanity and Nature (RIHN) in order to support the Karawo makers' livelihood. Karawo makers from Bone bolango and Lombongo/Tulabolo keen to create karawo rather than work for ASGM (Artisanal and Small-Scale Gold Mining). The SRIREP Project utilized the use of Karawo ikat techniques to boost the ability of Karawo makers to create better Karawo goods in order to raise their earnings. The project's objective is to decrease the poverty problem and pollution concerns associated with the use of mercury in ASGM. The Karawo makers are now getting orders from Japan for goods intended for sale in Japan. The Karawo ikat (Handkerchief and Fan) is being manufactured and will be marketed in Japan, while the Karawo ikat shirts are offered locally.
Downloads / ダウンロード
Pamphlets are available to download in two different language versions.
For any inquiries call us: (+81) 075-707-2357 (Japanese) & 075-707-2344 (English)