Background of the research
This new TDCOP (Transdisciplinary Community of Practice) group named "Sorghum Sumber Rejeki (SSR)" which means "Sorghum is a Fortune Source" was founded in late January to harvest Sorghum in Molosipat Village, Gorontalo Province, Indonesia.
Sorghum is a flowering plant of the grass family (Poaceae) that is either cultivated or naturalized in pasture lands in Africa, Asia, and Australia, with certain species even growing on the islands of the Indian and Pacific Oceans. It was used to make cereals for human consumption and pasture for animals.
Outbreaks and defective immune systems were common as a result of local goat breeders' insufficient livestock management techniques, particularly in breeding and feeding. Likewise, goats should be immunized against parasites since they are more widespread in them. The high expense of vaccinations is another issue for goat breeders.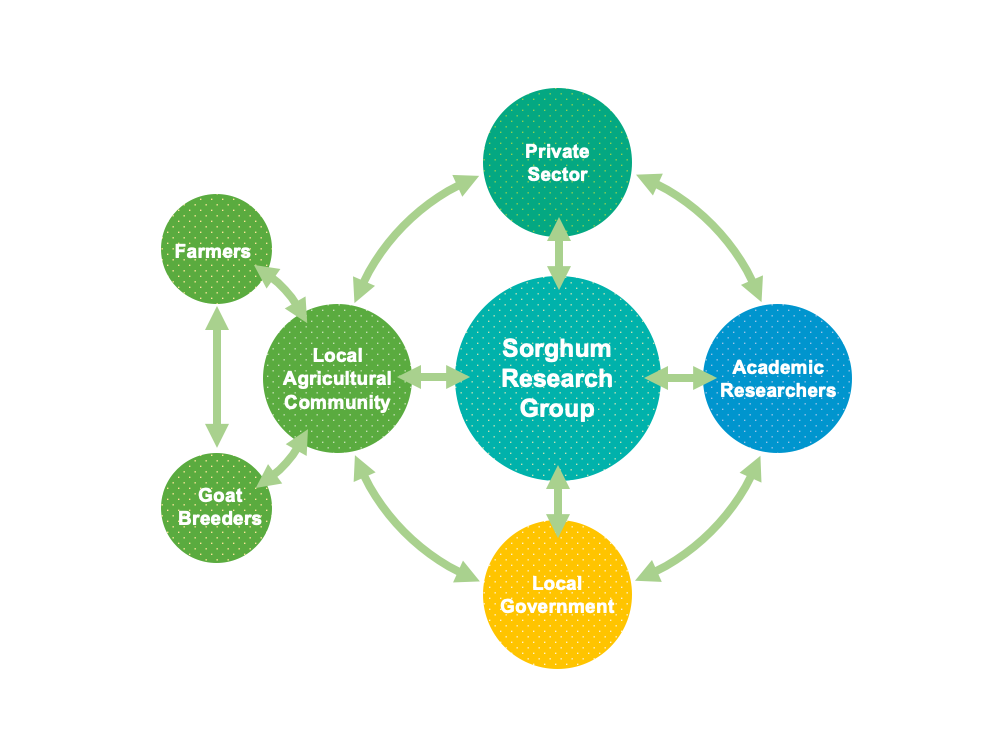 Purpose of the Research Group
The goal of the SRIREP Project of the Research Institute for Humanity and Nature is to identify a way to reduce mercury pollution in ASGM related areas (the larger population is living in poverty in that region) by developing various TDCOPs that are keen to shift toward a new kind of sustainable regional innovations. Our project members will continue to work together with the local stakeholders to put this solution into practice.
Progress
January 2022
Local farmers from two villages namely Molosipat Village and Sipatana Village, Gorontalo Province joined the Sorghum plantation in January 2022.
They had a plan to plant more sorghum plantation.
February 2022
As of February 27, 2022, the farmers from Molosipat Village had harvested the Sorghum plant.
In the meantime, groups of farmers from Tamboo Village and Tabango Village showed their interest in the Sorghum plantation.
March 2022
On March 25, 2022, UNG and BPTP are producing liquid sugar from sorghum stems in collaboration with local residents. BPTP provided two machines to process the stalks (chopping and squeezing machines).
According to the researcher from Gorontalo Province's BPTP, the sweetness level of the liquid sugar was rather excellent, due to the fact that it was handled simply.
Mr. Amin, the Head of BPTP, Gorontalo Province, explained that local residents are becoming interested in sorghum cultivation. Because they are already aware that all portions of the sorghum plant are edible. Sorghum millet may be used in replacement of paddy rice in rice production, the stems can be pressed to obtain liquid sugar, and the squeezed stems and leaves can be utilized as animal feed.
April 2022
Harvest even was conducted by the members of Sorghum TDCOP harvested in collaboration with local farmers in Sipatana. For this season, just one-fourth of the area was harvested, with priority given to plants that were blown down by severe winds and those with millet that had reached maturity.
The plant produces higher sorghum millet that is primarily reddish in color. However, according to Oma Zein, there was no fertilizer, even though they only weeded the sorghum once.
The harvested sorghum millet was placed in the permeable bag and would be sun-dried for a couple of days prior to grinding.
The harvested leaves and stems of sorghum were cut by a machine. The fresh sorghum was utilized to feed cows, while the remainder would be fermented into silage. Dwi-san will guide the farmers after iftar.
Journalists from Gorontalo Pos, Online Media and the office of the Indonesian news agency Antara News covered the event and interviewed Yahya-san and Dwi-san.
Please visit the following links:
News 1: https://srirep.org/2022/04/16/local-community-learned-how-to-turn-sorghum-into-animal-feed-at-takmirul-masjid-gorontalo/
News 2: https://srirep.org/2022/04/17/utilizing-sorghum-as-animal-feed-original-video/
The plants were harvested after around 4 months.
July 2022
Meeting between Project Leader and the members of Sorghum TDCOP Group
Monday, July 10, 2022, from 9 a.m. to 11.30 a.m., the event took place at Ustadz Yusuf Kune's at Taubah Islamic Boarding School. Professor Masayuki Sakakibara, Project Leader of SRIREP Project, RIHN, Mr. Yusuf Kune, the Owner of Taubah Islamic Boarding School, and members of Gorontalo State University (UNG) including Ir. Agus Bahar Rachman, S.Pt, M.Si, PhD., Dr. rer. nat. Mohamad Jahja, S.Si., M.Si., undergraduate students: Adam Ibrahim (Animal Science), Hesti, Amar, Inda, and Bella (Translator from UNG), Ms. Ukin (Wife of Mr. Yusuf Kune), Hamjat (Bulotadaa Farmer of Al Hikmah), as well as members of livestock farming organizations, and parents of students took part in the event. The presentation by Professor Sakakibara at the event included the showing of a video on the effects of ASGM on society and the environment, followed by a questionnaire based on the video. Bella served as the interpreter as she presented a detailed explanation in Indonesian to the farmers. In addition, Ir. Agus Bahar Rachman, S.Pt, M.Si, PhD., addressed the benefits of Sorghum plantations for both local people and animals, as well as his two years of experience cultivating sorghum and caring for goats.
December 2022
Planting sorghum, and training in Hubulo Islamic Boarding School (2500m2), Bone Bolango (2022.12.02)
January 2023
Under the guidance of the school principal, Mrs. Erawati, and the Sorghum Group chairman from UNG, Mr. Agus, the students of Central Suwawa State Elementary School (SDN) No. 4 were given the responsibility of planting and caring for the sorghum plants that were to be planted behind their school. They planted sorghum on January 13, 2023, despite the fact that the terrain is rough and it is uncertain whether the plants would thrive.
Preparing the land (21st December 2022)
The land was split into three sections, with two student classes assigned to each section.
After a month after planting, the sorghum is flourishing. Hopefully, it will provide the intended outcomes. SDN 4 Central Suwawa will be the location for joint activities of 4 TDCOP groups in Central Suwawa, which is adjacent to East Suwawa, and significantly close to ASGM activities. The 4 TDCOP groups are Karawo, Sorghum, Natural Fiber and soon join Eco-tourism (Geosite in Lombongo).
February 2023
Planting sorghum in Tulabolo village, Bone Bolange (2023.2.3)
(Photos source from Head of Tulabolo Village (Erick Steven Lingude)
Due to a scheduling difficulty, Agus-san, a leading member of this group, was unable to attend this activity. Nevertheless, he did donate the sorghum seeds that were to be planted, which he handed to Zulham-san (a member of Tulabolo) the day before.
Related News & Activities
For any inquiries call us: (+81) 075-707-2357 (Japanese) & 075-707-2344 (English)