English Translation
Collaborative Training Held as DWP UNG Maintains Karawo Ikat's Existence
Wednesday, March 22, 2023 (F: syahrin ayahu)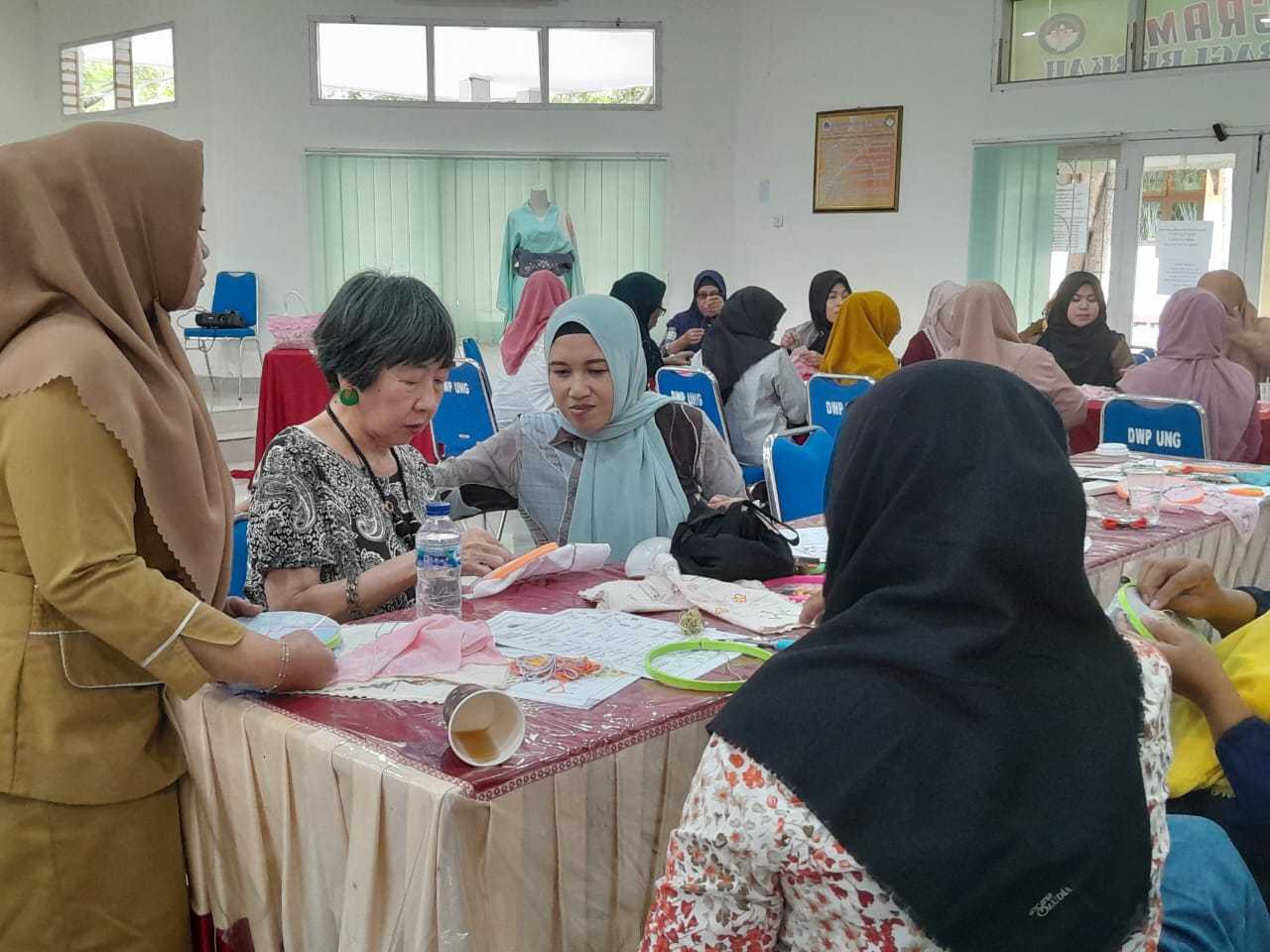 Photo Caption: DWP UNG administrators learn Japanese embroidery and Karawo techniques, Monday (20/3/2023) (F: syahrin ayahu)
UNG – (Go-pena.Id) – Dharma Wanita Persatuan (DWP), Gorontalo State University (UNG), SRIREP Project under the Research Institute for Humanity and Nature (RIHN), and the Totsuka Japan Embroidery Association held the collaborative training focusing with Japanese embroidery techniques in order to maintain the existence of Karawo which is considered as one of Gorontalo's characteristics.
Several women were also present to learn Japanese needlework on the first day, which was the primary focus of the activities.
By combining Karawo with Japanese embroidery techniques taught by Shimaoka Junkao, a senior embroidery teacher in Japan under the auspices of the Totsuka Japan Embroidery Association, the participants were able to successfully produce their original collaboration product.
Thus, the collaboration activities between Japanese embroidery and Karawo conducted by DWP UNG for two days (19th and 20th of March) were exceedingly significant for both participants and UNG.
Dr. dr. Cecy Rahma Karim, Sp.GK, Chairman of DWP UNG, stated that DWP UNG remains dedicated to preserving Karawo as a typical Gorontalo regional identity so that craftsmen and DWP members continue to learn how to preserve Karawo Ikat. "As a physician, I would like to convey that embroidery has a positive effect on our minds, thereby preventing premature senility. This activity is also a means of carrying out the collaboration between UNG and SRIREP (RIHN), Japan. And we will remain committed to the development of Karawo Ikat, she concluded. (Syahrin)
Original post's URL: https://go-pena.id/readmore/gelar-pelatihan-kolaborasi-dwp-ung-tetap-jaga-eksistensi-karawo-ikat1