English Translation
BKOW Collaborates to Develop Karawo Ikat, Representatives from SRIREP-RIHN project and Japan Totsuka Embroidery Association Present as Presenters
Author: Admin – Wednesday, March 22, 2023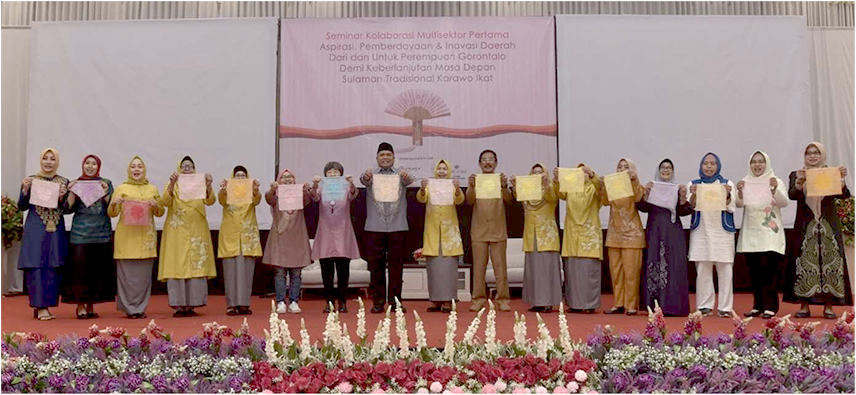 Photo caption: Chairperson of BKOW, Rector of UNG, and presenters from Japan with participants in developing Karawo Ikat.
GORONTALO – The Women's Organization Cooperation Board (BKOW) of Gorontalo Province, held the first multi-sector collaboration seminar themed Aspirations for regional empowerment and innovation from and for Gorontalo women, for the future sustainability of traditional Karawo Ikat embroidery. Tuesday, March 21, 2023, at the Grand Palace Convention Center, Gorontalo City.
This seminar presented speakers from Japan, namely Shimaoka Junkao, a senior embroidery teacher in Japan under the auspices of the Japanese Totsuka Embroidery Association and Andi Patiware Metaragakusuma, Ph. D researcher from SRIREP, a project to reduce environmental pollution through sustainable regional innovation, under the Research Institute for Humanity and Nature (RIHN), When giving material Shimaoka was accompanied by Kusuma as a translator who was also an alumnus from Japan.
Shimaoka provided a lot of knowledge about the history of world embroidery until it entered Asia and then developed in Japan, he displayed some of the world's embroidery results ranging from India, Europe, Portugal, Romania, China, to Southeast Asian countries, including showing his embroidery work. According to her, Karawo Ikat has enormous potential to continue to be developed, especially if it can give birth to new motifs whose ideas can be obtained from around us.
In addition to the material about world embroidery presented by Shimaoka, material about the characteristics and uniqueness of Karawo was also presented by Mrs. Dra. Hj Lailany Yahya, M. Si to seminar participants. The seminar was closed with material related to ethics in fashion presented by Andi Patiware Metaragakusuma, Ph.D..
This activity also received appreciation from the rector of Gorontalo State University (UNG), Dr. Eduart Wolok, MT who attended the seminar. Eduart said that the cooperation between UNG and Japan is a huge potential to continue developing Karawo Ikat.
"And this BKOW must be able to take part and this opportunity. Today's seminar is one form of BKOW's seriousness in developing Karawo Ikat," said Eduart.
Meanwhile, the Chairperson of BKOW Gorontalo Province, Dr. dr. Hj. Nurinda Rahim said that from this seminar, BKOW will empower Karawo Ikat craftsmen.
"This is also one of the programs of the BKOW board, namely Mrs. Lailany Yahya, who is also a Karawo craftsman activist, who is very concerned about the development of Karawo Ikat in Gorontalo Province. And we will continue to support it," she concluded. (Wawan)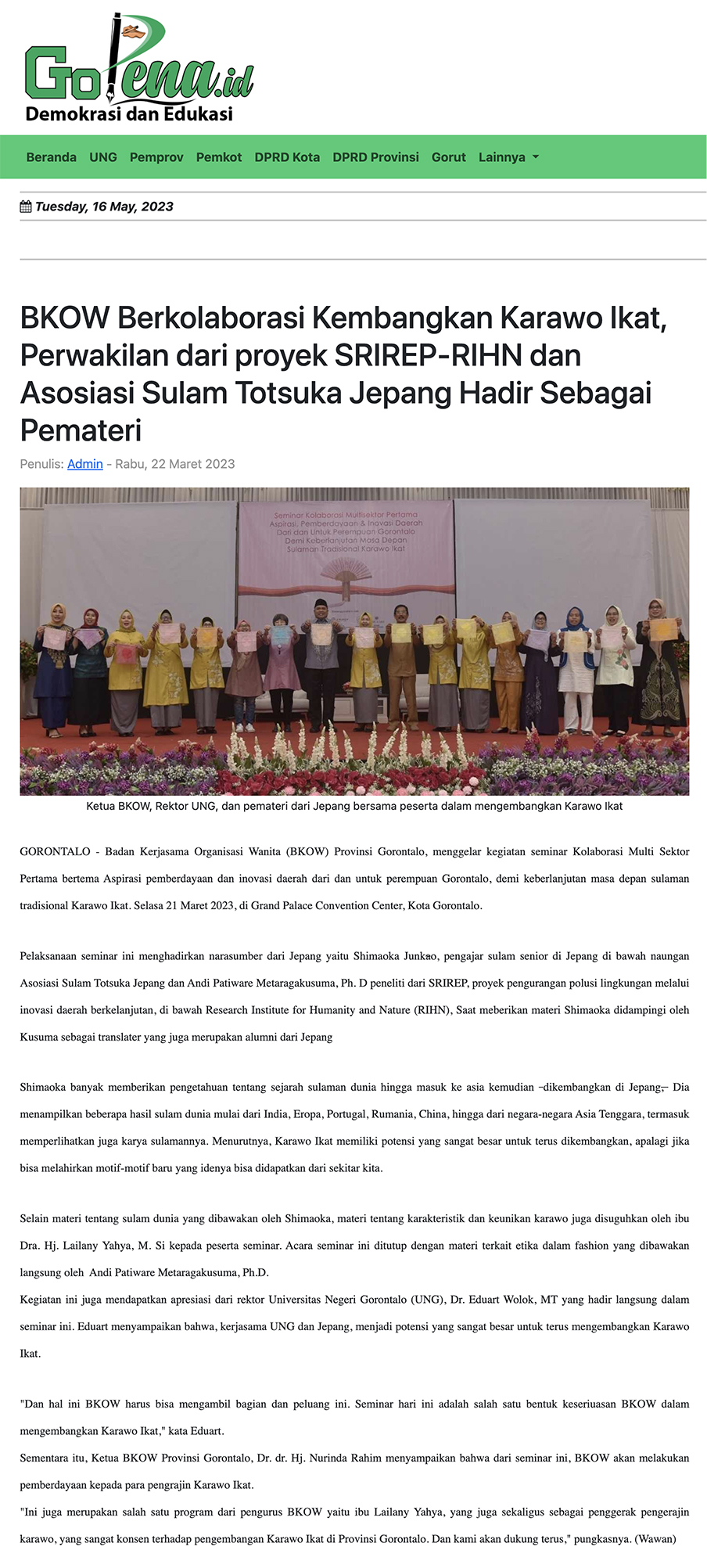 Original post's URL: https://go-pena.id/readmore/bkow-berkolaborasi-kembangkan-karawo-ikat-perwakilan-dari-proyek-srirep-rihn-dan-asosiasi-sulam-totsuka-jepang-hadir-sebagai-pemateri